At 307 Chiropractic Health Center, we are Casper, Wyoming's only Torque Release Technique Certified Chiropractor, offering the very latest in advanced, safe, and gentle pain relief through effective techniques that replace the 'old style' method of wrenching, cracking, and popping that many patients fear.
Dr. Wisroth has Certified Advanced Proficiency in the Chiropractic Torque Release Technique in Casper, which has been proven through research to be the most specific, scientific chiropractic technique in the world.
---
Why WE use Torque Release Technique in Casper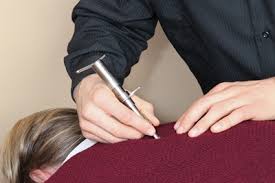 It is the most current and up-to-date technique in the Chiropractic profession today and is the first Chiropractic technique of the 21st century. It provides patients of any age with the most gentle and reproducible chiropractic adjustment available. No scary wrenching is ever necessary!
Torque Release Technique was designed as part of scientific research into the health benefits of multiple other Chiropractic techniques.
It is a mixture of the "Best-of-the-Best" systems of chiropractic assessment and care. Torque Release bases its technique on gentle, low force thrusting by using a hand-held instrument called an Integrator. The Integrator reproduces the thrust and movement components of the classic chiropractic method of adjusting by hand, except at a speed of 1/10,000th of a second.
---
What it does
This makes it the fastest technique in the profession. This technique allows tension of the spinal cord to release by correction of subluxations intimately connected by inner spinal column dural attachments.
These corrections are not limited to just the areas of pain and symptoms, the healing experience is typically more complex in all areas of the body and mind. It leads to profound neurological changes that benefit everyone, no matter what symptom or level of health he or she is currently at.
The Torque Release Technique progressively reduces blockages and tension of the entire spinal system, to release trapped, unresolved neurological patterns in the body and to facilitate reintegration of the nervous system. This allows the body to adapt more efficiently to its environment and situation allowing a greater expression of life.
OFFICE HOURS
---
Monday
6:30am - 4:30pm
---
Tuesday
6:30am - 4:30pm
---
Wednesday
6:30am - 4:30pm
---
Thursday
6:30am - 4:30pm
---
Friday
6:30am - 8:30am
---
Saturday & Sunday
Closed